Caramelized Apple & Cream Cheese Danish
Come in. Please. I'm extra excited about this one.
Welcome to my kitchen table. That's it up there. Seats four comfortably. Six sardined. It's a dream come true in a city studio. I know there's a method to the madness when it comes to this super fancy camera I've got here. If I weren't so impatient I'd watch some YouTube videos on how to use it. Or tap one of my photographer friends to give me an hour-long lesson. But that would just rob me of all the painful and frustrating days when I just can't seem to get the settings and the light to play nicely together. Which could make the days when somehow I do manage to capture the magic far less rewarding. I'm so excited to share this post because 1) this recipe turned out uh-MAAAZING and 2) I'm pretty happy with how the pics turned out too.
Coming to you live from Hawaii right now and although this post has been in the works for a little while. It actually came about as a bit of an act of defiance. I'll explain. A few weeks ago I was on a date with this guy. Oddly, it wouldn't be our last. I say oddly because he actually hated everything about me. Even just that word "hate" provokes an uneasy feeling in my soul. Maybe there's an extra sensitivity given everything going on in the world right now but ya, hate is a strong word and when someone uses it passionately and often it's probably a red flag. Everything from my taste in music to my church family to my relationship (or lack thereof) with my father to my vocabulary to the fact that I'm allergic to dogs was either mocked or condemned over the course of five and a half hours. If you're wondering how I endured that, the second cocktail helped. I was pegged a hypocrite for peddling foods to the masses that I wouldn't consume myself as a profession and also for finding joy in baking for others when I myself try and limit my sugar intake. The nerve. We never made it to rainbows, children, or kittens but I'm sure he hated all of those things too. Somehow we ended up on a second (and final) date. I know. And I don't even know. It didn't end quite as graciously as the first one did. Perhaps I should've had a drink. But then we maybe would've ended up on a third and I don't even want to imagine how that would've gone down. Dating in the city is no joke. It's so hard. And bizarre. This one was one for the books. The following day, in what really was perhaps a subconscious act of defiance, I pulled out the sugar, butter, and flour. I put on Dave Matthews Band. And I baked. This.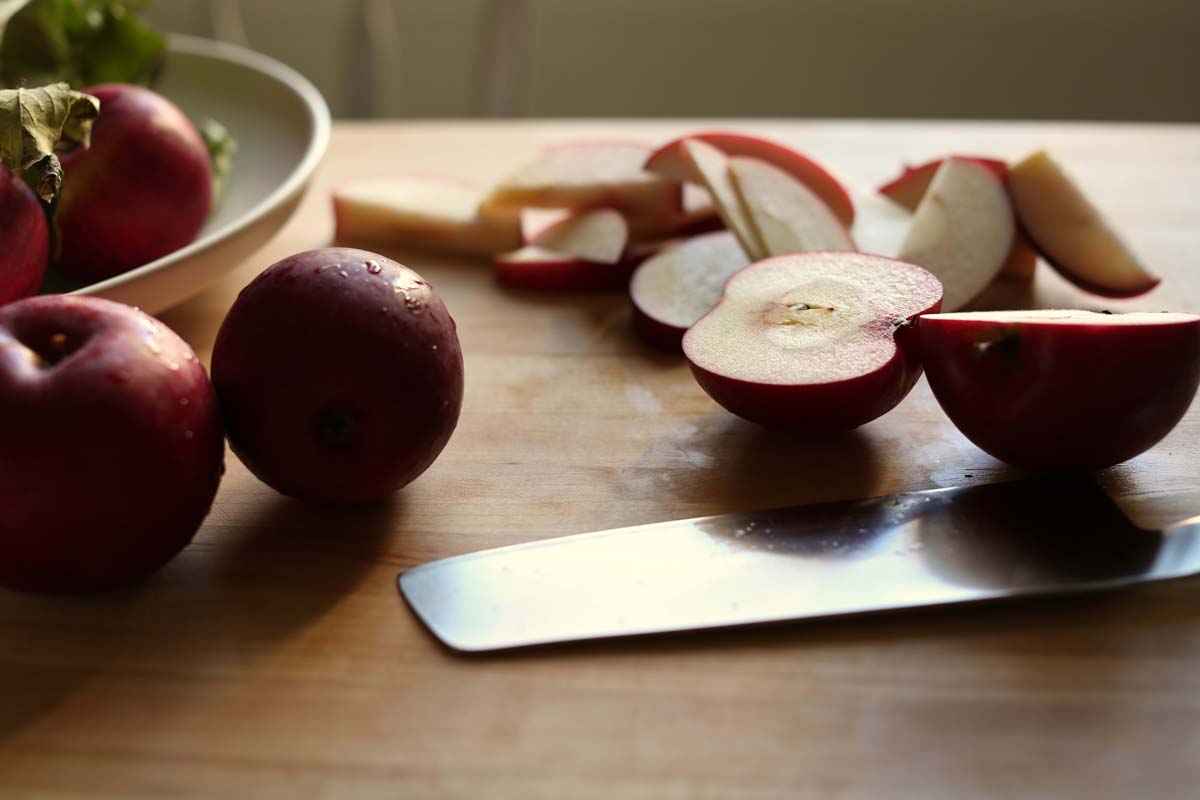 Irony of ironies, right before our disastrous dinner we were coming from church where we'd just heard a sermon on hospitality. Can we talk about hospitality for a second? Not hospitality in the traditional "I baked you a caramelized apple cream cheese danish" sense. I mean hospitality on a micro/relational level that makes a wide and welcoming space for someone to live and be just as they are in conversation and in relationship, whether friendship or more than.
Two things I know about myself: I have a pretty terrible case of RBF (aka resting bitch face.) If you've seen the movie Juno there's this great scene where she (Juno) informs Paulie (the father of her soon-to-be-born child) that his girlfriend gave her the stink eye all through gym class. He replies, "That's just the way her face looks." Pan to said girl's face. And ya, it's bad. Inhospitable at best. That's my face. Second, my insecurity in general makes me quiet and awkward in social settings which manifests itself I'm sure in the form of all kinds of unwelcoming body language. Not exactly a warm or hospitable first impression. Which is so unfortunate. It's quite the opposite of my heart. Someday when I'm no more I sincerely hope that it's said of me, "She was hospitable and kind, adventurous and honest, and seriously funny as !*%$." Actively working on that being my legacy.
The sermon coupled with a widely misinterpreted text thread from a few nights earlier prompted a conversation between us about what ultimately breaks down barriers when getting to know someone, what each of us is like in relationship, and what we're actually looking for from one. It was a conversation dubbed far too heavy for Tacolicious (which he also hated.) Maybe. Who cares? Relationships, no matter what stage whether they're flying or failing, hold up a mirror to who we are. Oftentimes we don't like what we see. And that forces us to think through and verbalize things we maybe wouldn't have otherwise. Your 30-year-old self is likely to answer a question much differently than your 20-year-old self would have. At this point my desire for a relationship is not for financial or or even emotional security. Although it would be really amazing to split rent with someone. I believe men are wired to be providers and protectors and women nurturers. I love that dynamic. Despite what the unfortunate look on my face or my body language at a party might say, I am wired to nurture. To be hospitable in that sense. That's all I'm looking for. All. Ha! I suppose maybe it's a bigger ask then I think. It's certainly been hard to find. I have grand visions of the BonAppMag-style dinner parties I'd love to throw. Hospitality in that way is perhaps more easy to identify. But the quiet opportunities for relational hospitality are so much richer. Besides, I don't really actually even have the space or the barware setup for those dinner parties anyway.
All this to say, in the same way that the mean lady on the 4th floor with cats serves as a cautionary warning, this guy did too. When life does start to make me irritable (as it often does in the city), I sincerely hope I'll remember this guy's bitter take and be reminded that everything is actually really, really good. Life is good and people are good and God is very, very good.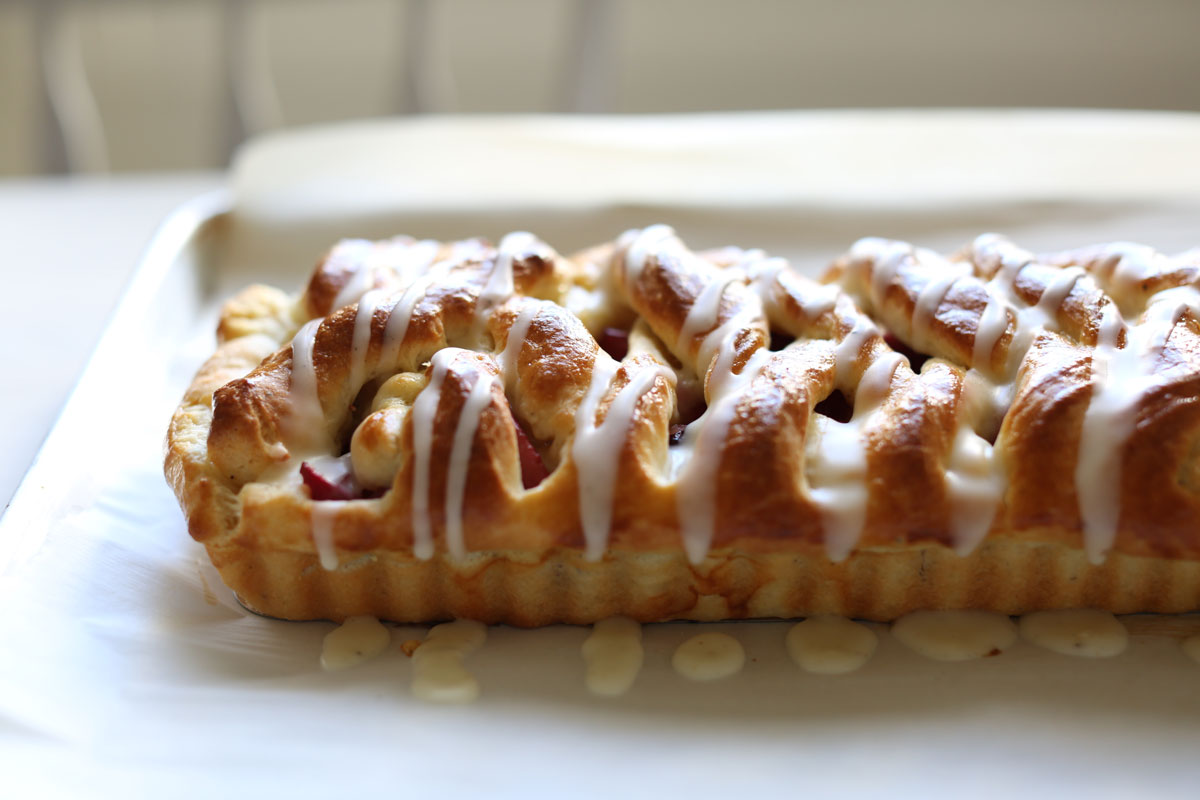 This beautiful feat of pastry ultimately went to my downstairs neighbor who was not at all morally offended by it. When you realllly want to bake, few things are more satisfying than bread. Vienoisserie is a term that encompasses the sweet crossover between bread and pastry. It takes a traditional bread recipe and throws eggs, butter, sugar, and milk at it for a family of enriched sweet doughs that require a very specific kind of methodical patience and care. Brioche, croissants, danishes. Folding and turning and folding and turning. Resting and waiting. The results ranging from pillowy soft crumbs to crisp, flaky layers. It's magic. On this particular morning, I wanted a recipe that required my whole heart. And this was it. A custom mish-mash actually of a handful of recipes that I'd found that were almost but not quite what I had in mind. I had some beautiful Red Rome apples from the farmer's market. Calvados-soaked cranberries gave it just enough holiday spin. The olive oil and cardamom icing sprinkled with toasted almonds a touch of sweet sophistication. I love this.
Food for Style Notes
- Nearly every recipe for apple anything will tell you to peel them. I intentionally left the deep red peel on the apples to lend some color to what would have otherwise been a decidedly beige subject matter. It was still over the top delicious. Plus, that peel ended up transferring a beautiful rosy pink hue to the flesh of the apples.
- The ribbons of pastry will be delicate. If you tear one while you're folding them, nbd. Just pinch it back together.
- Be sure to allow the danish to cool completely before drizzling with icing. Otherwise it will melt it into a glaze (which would also be gorgeous) instead of giving you the defined criss-cross lines.
Want more food styling tips?
Check out the workshop series for full-on food styling classes and subscribe to gain access to a free online library of styling and baking resources.
Caramelized Apple and Cream Cheese Danish
Inspired by a recipe from Australian Gourmet Traveller, a questionable date, and all the things I love.
Method
Heat 1/3 cup water to 110 degrees. Sprinkle the yeast over and stir gently until no dry yeast remains. Sprinkle with a pinch of sugar and set aside for 4-5 minutes or until foamy. Whisk in the heavy cream and egg. In the bowl of a food processor pulse 1 cup (280 g) of the flour with the sugar, cardamom, and lemon zest. Add the butter and pulse until pea-size crumbs form. Add the yeast mixture and pulse 2-3 times until combined. Generously flour your hands and a large cutting board or clean counter top and scrape the dough onto the surface. Work in the remaining flour 1/4 cup at a time until the dough no longer sticks to your hands. You may not use all of it. The dough will feel very loose. Roll into a rectangle approximately 10 inches long and fold into thirds like a letter. Repeat the rolling and folding twice more, wrap in a double layer of plastic wrap, and refrigerate overnight. In a separate bowl whisk together the egg yolk, heavy cream, and salt. This is your egg wash. Cover and refrigerate until ready to bake the next day.
For the filling, combine cranberries and calvados in a small bowl and soak for at least 30 minutes or overnight. In a large sauté pan melt the butter over medium-high heat. Add the apples and cook, stirring often until they begin to soften, 3-5 minutes. Sift the powdered sugar over the apples and stir to coat. Continue to cook the apples until the sugar begins the caramelize and the apples are coated in a light glaze, 5-7 minutes. Pour in the cranberries and Calvados. Cook, stirring constantly, until the alcohol cooks off and all the ingredients are incorporated, 1-2 minutes. Pour the apples onto a plate and set aside to cool.
Remove the dough from the refrigerator and on a lightly floured surface, roll to a 12 inch square. Fold into thirds from top to bottom like a letter and then in thirds again from left to right. You'll end up with a small square like in the photo above. Re-wrap and return to the fridge for 30 minutes to rest. Repeat this process 2 more times.
Preheat the oven to 400 degrees. On a floured surface roll the pastry to a rectangle that is three inches longer and three times wider than your tart pan. (Mine was a very long rectangle measuring 14 x 4.5. My dough rectangle was 17 x 13.5.) Wrap the dough around your rolling pin and gently unfold over your tart pan making sure you have equal amounts of dough to work with on all sides. Gently spread or press the cream cheese into the bottom of the tart and pour the apple filling evenly over. Using a pair of scissors, cut the overhanging pastry at a 45 degree angle into 1 inch wide strips up to the edge of the tart pan. Fold the strips of pastry over the filling alternating from one side to the other, twisting gently as you go, so that the strips overlap. Trim away or tuck in any excess on the ends. Brush evenly with egg wash, place the tart pan on a sheet tray, and bake for 15-20 minutes or until golden brown. Cool the pastry in the pan on a wire rack for 30 minutes. Carefully remove the outer ring and cool completely.
To make the icing, whisk all ingredients together in a small bowl. Drizzle the glaze over the top of the pastry and sprinkle with toasted almonds. The tart is best served the day it is made.
Ingredients
For the pastry
1 packet (7 g) active dry yeast
6 tablespoons (90 ml) heavy cream, room temperature
1 egg, room temperature
2 cups (480 g) flour, divide
2 tablespoons + 1 teaspoon (30 g) sugar
1/4 teaspoon ground cardamom
Finely grated zest from 1 lemon
3/4 cup cold butter (180 g), dice
1 egg yolk
2 tablespoons heavy cream
pinch of salt
1/3 cup sliced almonds, toasted in a 350 degree oven for 10 minutes.
For the filling
1/2 cup dried cranberries
1/4 cup calvados
4 medium-sized apples, cored and cut into eighths
3 tablespoons butter
1/2 cup powdered sugar
1/2 cup cream cheese, softened
For the icing
1 1/4 cups powdered sugar
2 tablespoons hot water
3 tablespoons olive oil
1/4 teaspoon ground cardamom
pinch of salt