Persimmon Cake with Sweet Yogurt Glaze
Productivity fail. With Christmas just three days away and the past 48 hours tying up loose work ends feeling busier than the past few weeks combined I'm so far behind the eight ball it's not even really visible anymore. Hopefully your holiday countdown (if you do countdown) is in better shape than what's happening over here. At least we've got the baking inspo covered, right?
I flew home extra early this year. Partially because the flights were cheaper and partially because I was just done. I came armed with a to-do list of a few (now ever-encroaching) loose work ends but mostly full of the fun stuff, ready to take advantage of some quiet, undistracted time with no noisy neighbors. Like brainstorming the follow up to 12 Days of Cookies, planning the content for the next webinar, and outlining entirely pointless New Year's resolutions for 2017. Instead of plowing through it all I've been fumbling around back and forth getting a little but of everything and therefore next to nothing done and spending disproportionate amounts of time in the swivel chair staring at the Christmas tree. When you can't motivate yourself to get even the fun stuff done, it's a sure sign that a few days of true rest are probably in order. I've never in my life set an out-of-office responder for my email but tomorrow afternoon once all the client calls are over and done, it's happening.
Like the rest of them, this year's been one for the books and January is shaping up to be a busy one. At any given point in time I feel like equal parts Tony Stark and The Brave Little Toaster. Part surface-level superhero with an all but mechanical heart on auto-pilot. Part tiny little thing with a tiny little voice putting on my most bravest grown-up face in a very big, very fast world with an intimate entourage of heroic friends around that are the real source of bravery. It's a wide-eyed adventure this life. I'm constantly in awe. Probably why I simply can't enjoy fiction reading. Life's insane and I can barely handle my own let alone take on the weight and emotion of something that's not actually happening. So, time for a rest. Lots more that could be said on that but opting to save all the feels for next week's New Years post. Well, most of them anyway. Plenty of room for some Christmas feels here.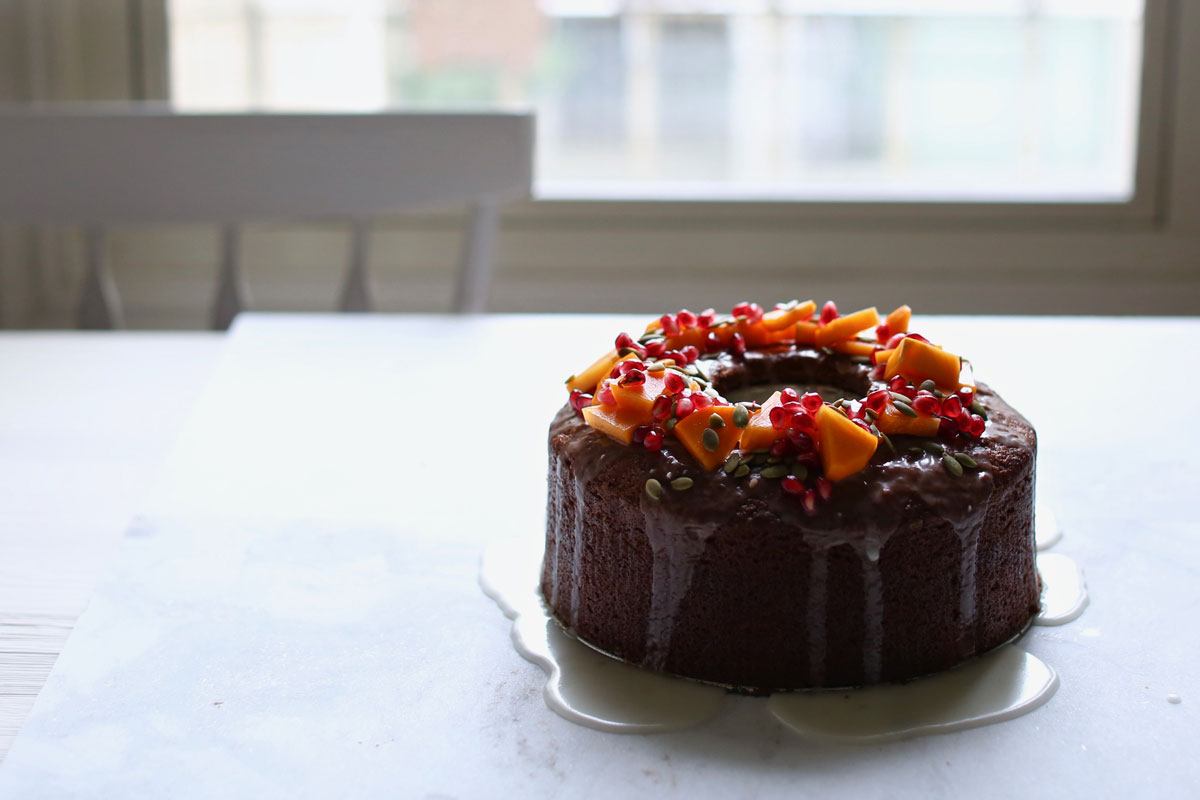 Christmas at home is so sweet. The moment we start onto the bridge over the lake and into town everything inside lights up, warms up, looks up, and starts entertaining the idea of moving home forever. It's classic. Snow everywhere. Lights on homes. The flight attendant wished me a Merry Christmas as I walked off the jetway at the airport to a quartet playing carols. A far cry from the hard-hearted "tolerance" of the city where someone wouldn't dare be so insensitive as to wish you a Merry Christmas. It was warm and welcoming and so right. We get snowed in and wrap presents. We order pizza and watch movies and marathons of Fixer Upper. We bicker over politics when Fox News comes on (there's a moratorium this year.) We make cookies while Elvis and Celine sing us Christmas songs from the same CD's we've put on for the past 20 some years. If you think I'm making this out to be a little overly idyllic, it's actually 100 percent spot on. I spend most of every day in the tartan pajamas I got for Christmas when I was 12 (not even kidding) and there's nothing grown up or brave little toaster about it. It's so marvelous.
For all its sweetness this year is our first Christmas without our matriarch. It'll be a different one in some very big ways. We've spent every Christmas morning at my grandparent's house for the past 30 some years. We'll be there this year too of course but it'll be notably emptier for everyone. The silver lining is a family that sees each other but once a year and really hardly knows each other for lack of face time rally together to re-create the Christmas dinner that she always made. Each with their own piece to contribute. If I could get persimmons in Northern Idaho I'd make this mine. I think she would have liked it a lot.
Admittedly I wasn't really on board with this one at first. I don't love persimmons. There's a twinge of shame in admitting that. I feel like when it comes to food I'm supposed to just love everything. I used to have a roommate that would seriously rejoice once they started showing up in markets. I never shared the enthusiasm but I've had this recipe for awhile. And it's Christmas. The thought of it never sang to me like a gingerbread cake or like that Kabocha squash cake from awhile back. Until I made it. And now I'm like, I mean, okay...this is pretty damn delicious. It's perfectly seasonal in a season where citrus (and not much else) reigns supreme and can we all agree that with it's wreath-esque presence that it's also festive AF? It's kind of the perfect thing for Christmas morning. Word to the wise, make your glaze a bit thicker than mine (if that wasn't already obvious from the photo) and don't even think about using persimmons that aren't ripe, ripe, super ripe. They're incredibly tannic otherwise. One bite of an underripe Hachiya and there's not enough water in the world to bring the saliva back to your mouth. Noted. Always learning. Go with the Fuyu variety for garnishing the top. You still want 'em ripe but still probably a better bet for the fresh garnish.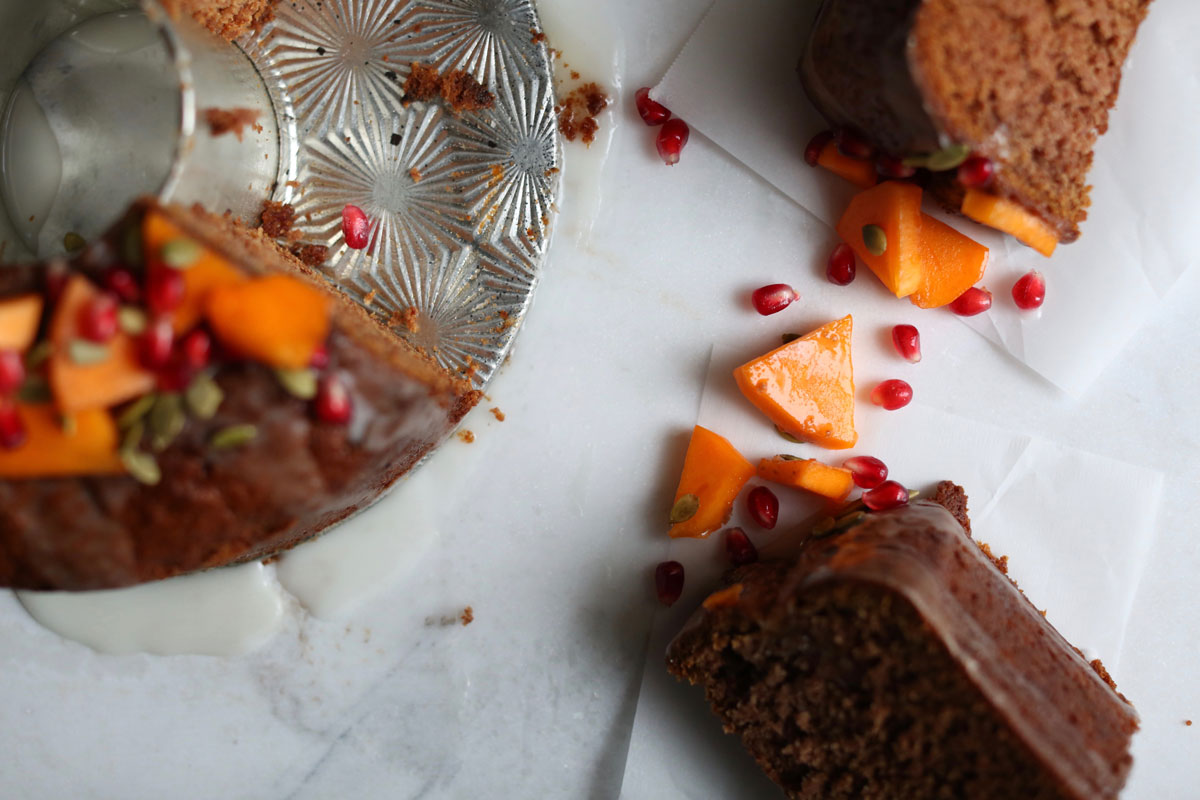 So there you go. Happy Merry from me to you with a holiday perfect persimmon cake. I hope your time this season is restful and so sweet. Will be doing my best to protect and savor this sabbath celebratory time myself.
Persimmon Cake with Sweet Yogurt Glaze
The batter for this is VERY thick. Make sure to avoid trapping any air when you're putting it into the pan and plan on a long bake time, up to an hour and a half. Poke it with a stick to make sure it's cooked through.
Method
Preheat the oven to 350 degrees. Butter a 10 cup tube or bundt pan and line the outer ring with parchment paper like in the photo above.
To make the puree, cut peeled persimmons into 1/2 inch chunks and toss into the bowl of a food processor. Whirl until smooth scraping down the sides once or twice.
In a large bowl whisk together the flour, salt, baking soda, cinnamon, nutmeg, and black pepper.
In the bowl of a stand mixer fitted with the paddle attachment cream the butter and sugar until light and fluffy. Add the vanilla and scrape down the sides. Add the eggs one at a time. Scrape down the sides and add half of the persimmon puree followed by the dry ingredients and ending with the remaining puree. Beat until just combined. The batter will be very thick. Scrape into prepared pan making sure not to leave any air pockets. Smooth the top with an offset spatula and bake for 60-90 minutes depending on your pan. Test for doneness with a wooden skewer. Cool 10 minutes in the pan before turning out onto a cooling rack to cool completely.
To make the glaze combine powdered sugar with 2 tablespoons hot water. Whisk until combined adding a few drops of hot water as needed until you've got a very thick glaze. Whisk in yogurt. Add a bit more powdered sugar if glaze gets too thin.
Once cake is completely cool, drizzle with glaze and arrange garnishes on top. Give it one more pass of the drizzle if you've got any left over.
Ingredients
4 ripe Hachiya persimmons, peeled
4 2/3 cup all-purpose flour
1 teaspoon salt
2 teaspoons baking soda
1/2 teaspoon cinnamon
1/4 teaspoon nutmeg
1/8 teaspoon black pepper
1 cups (2 sticks) butter, room temp
2 1/2 cups sugar
1 teaspoon vanilla
2 eggs, room temp
For the glaze
1 1/2 cups powdered sugar (plus more as needed for consistency)
2 tablespoons hot water
1/4 cup whole milk yogurt
For the garnish (optional in any combination)
Fresh pomegranate seeds
Pepitas
Diced Fuyu persimmons
Dried currants
Chopped pecans