Pumpkin Spice Pinwheels with Cream Cheese Frosting
Gosh. It's been a week, hasn't it? The election aside I've been on-boarding back into real adult life after a week in Hawaii. It's proving to be a lot more difficult than anticipated hence why this post is a few days late. I'm sure we can all agree that this week has been a trying one. In an attempt to #bakeamericagreatagain, I give you Pumpkin Spice Pinwheels: a spiced pumpkin cake wrapped around and around a thick layer of cream cheese frosting.
I know. If you're not already completely pumpkin'd out, you're verging on it. If you're feeling worn thin on the whole thing, I can kind of relate.
Not about the pumpkin. I'm actually not sure what it means to tire of pumpkin-spiced things. Or cake. If you're reading this you're probably with me. It's other things, really. These last couple of months have been hard. You're probably thinking, "Um, really? Atlanta seemed pretty awesome. Hawaii didn't look too bad either." You're right. As per our best-foot-forward social media efforts (which I know we all do), they were both ideal.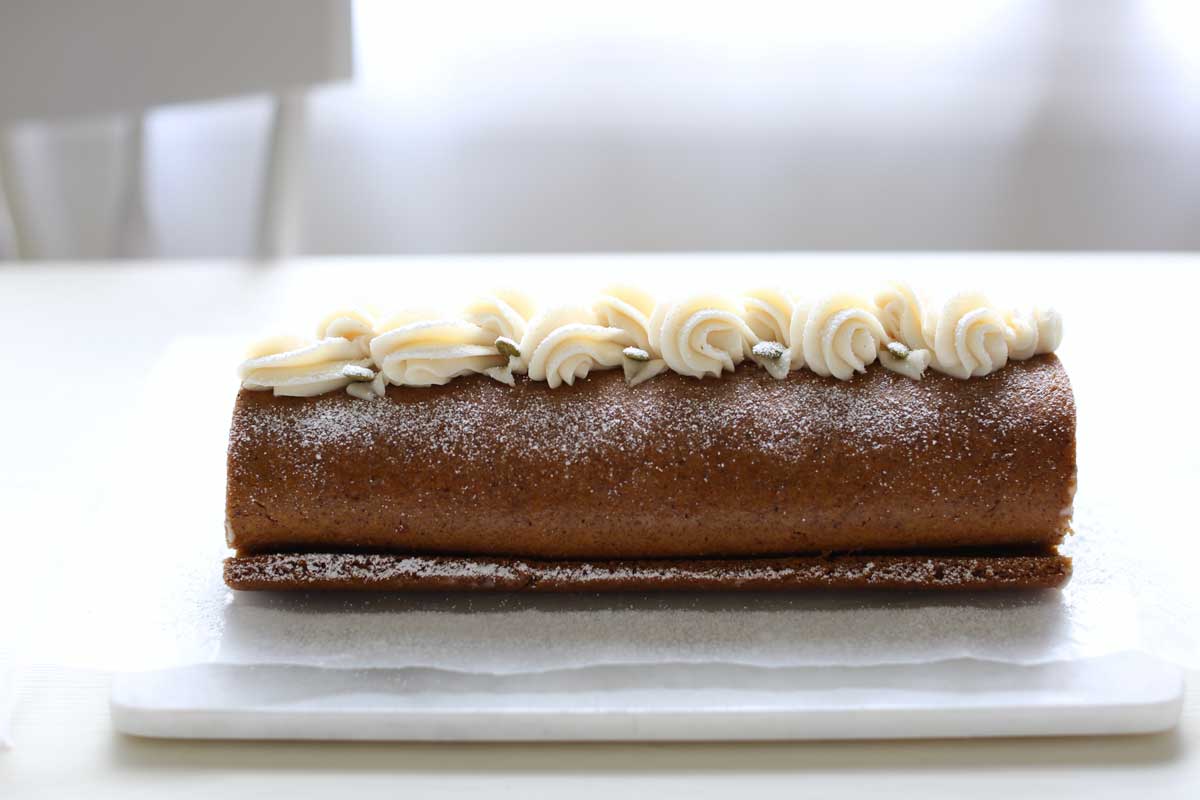 At a certain age and stage it seems only natural to me that one should be taking whatever their "thing" is to the next level, not starting from square one. That old adage about it "never being too late to start over" sounds really great. And it's true of course. It's just not convenient. And when all of a sudden it applies to your life, it just don't sound quite as...inspiring.
I'm a very methodical person. Type A. While I'm able to roll with the punches in a lot of ways (necessary in the very unpredictable world of food styling), I do much better with clear direction. Give me a clearly defined end-goal and I'll crush it. But if I don't know where I'm going I tend to fumble around in the same place for too long getting hung up on the wrong things. That's kind of what the past couple of months have been.
I'm coming to realize that my heart's not entirely in the thing I set out to pursue. The place I genuinely imagined myself and thought I wanted to go. And I wish I knew what to tell my heart to feel about it. When the thing you've been working towards turns out to not be the thing you thought or when you get there and somewhere along the way your heart took a detour in a different direction, what's next? Do you stay or go? Do you wait it out for a change of heart or throw in the towel? Or do you move home with your mom because you just can't friggen' figure out what you want or what the heck you're doing? You can only blank stare at your life for so long before you have to start making moves.
I keep saying to myself "at my age, at my age." I'm 33. There's nothing wrong with 33. At all. San Francisco is just perpetually 25. There's nothing wrong with 25 either but it sometimes has a way of making 33 feel much older. Ten years from now I'm sure I'll look back and think, "I wish I wouldn't have been worried about all that stupid shit I was hung up on at 33. Oh to be 33 again." Maybe not. No part of me wants to be 23 again so who knows. At this point I think I just imagined I'd be a little more "onward and upward!" and a little less, "Wait. Stop. Start over." There's a mix of emotions tied to it. Confusion. Surprise. Fear. Embarrassment. Curiosity. And lots of inner dialogue. Obviously.
The holiday season is fast approaching. The last few weeks in particular really picked up speed and what little remains of this year feels like it is flying by, doesn't it? This is also a season of unfamiliarity. I've talked to my mom. I've talked to my friends. I've talked to anyone that will listen hoping that somewhere along the way in all the talking I'll come to some revelation or inspiration or realization and I'll know where to go. But it's a season of unfamiliarity, patience, and openhandedness to see what might be next. I'm neither naturally patient nor openhanded by the way. But it can also be a season of hope and anticipation. If I let it be. Choosing optimism seems to be key to survival. Now. Personally. And for all of us if we're to make it through the next four years. On any given day there is much to be weary of. Much. Of all those things, I pray that hope is last on the list. Right underneath pumpkin cake roll. Or pumpkin anything for that matter.
So here's to hope. And cake.
Cheers
Food for Style Notes
- If you've never made a cake roll before, pshh. Ain't no thang. For how impressively they present, they require little effort so it's basically the perfect dessert for your holiday everything. Follow the steps in the how-to photos and be sure to turn the cake out of the pan right after it comes out of the oven because the longer it cools the more difficult it will be to roll. Take note that powdered sugar will go EVERYWHERE when you turn the cake out onto the towel. It's a joyous mess but I'd advise keeping your eyes closed.
- The key to a successful cake roll actually lies in the consistency of the frosting. It needs to be stiff enough to hold up to slicing the cake but still spreadable. Can you tell that I should have added more powdered sugar to this one? The recipe is perfected below I promise but I just didn't want to reshoot it (and be tempted to eat the whole thing. Again.)
- Chill the cake before slicing and clean your knife between each cut to keep the pieces clean.
Want more baking & food styling tips?
Check out the workshop series for full-on food styling classes and subscribe for access to an online library of food styling and baking resources.
Pumpkin Spice Pinwheels with Maple Cinnamon Cream Cheese Frosting
Cake recipe inspired by and adapted from Let Us All Eat Cake by Catherine Ruehle.
Method
Preheat the oven to 375 degrees. Spray a 13x18 inch sheet tray with nonstick spray, line with parchment paper, and spray lightly again. In a large bowl whisk together the flour, sugar, spices, xanthan (if going for the GF version), baking powder, baking soda, and salt. In another bowl whisk together the eggs and pumpkin. Add the pumpkin mixture to the flour mixture and whisk until just combined (or at least 30 seconds for the GF version to activate the xanthan.) Pour into the prepared pan and smooth the top with a spatula. Tap the pan against the counter top hard to bring any air bubbles to the surface. Bake in the center of the oven for 12-15 minutes. Do not under bake or the cake will be a sticky mess to work with.
While the cake bakes, prepare the tea towel for rolling by spreading it out on a clean surface and sift powdered sugar generously over the top. Once the cake is out of the oven run a knife around the edges to loosen and immediately turn it out onto the top of the tea towel. Powdered sugar will fly so hold your breath. Remove the parchment and beginning with the shorter end, roll the cake around the tea towel (see photos above) and allow it to cool completely while you make the icing.
To make the icing combine the cream cheese, butter, cinnamon, vanilla, and salt in the bowl of a food processor and pulse to combine. Add the powdered sugar 2 cups at a time until your icing is quite thick (to support the structure of the cake) but still spreadable. You may not use all of it. Reserve 1 1/2 cups in a pastry bag fitted with a large star tip if you'd like to decorate the top. You can keep the pastry bag wrapped in plastic in the fridge until you're ready to decorate and serve. Otherwise it's lovely (and plenty sweet) simply dusted with powdered sugar. Refrigerate the frosting until ready to use.
When the cake is completely cool, remove the frosting from the fridge and let it come to room temperature for about 10-15 minutes. To assemble, gently unroll the cake and spread the remaining frosting over leaving a 1-inch border on all sides. Re-roll the cake around the frosting, wrap the assembled cake by gently rolling it onto a sheet of plastic and transfer it to the refrigerator for an hour or two to allow the frosting to set. Thirty minutes before you'd like to decorate the cake pull the piping bag from the refrigerator. Pipe the frosting down the center, slice, and serve.
Ingredients
3/4 cup all purpose or gluten-free flour blend
1 cup sugar
2 teaspoons cinnamon
1/2 teaspoon ground nutmeg
1/4 teaspoon ground ginger
1/4 teaspoon ground cloves
1/2 teaspoon xanthan gum (omit of using all purpose flour)
1/2 teaspoon baking powder
1/2 teaspoon baking soda
1/2 teaspoon kosher salt
3 eggs, lightly beaten and at room temperature
3/4 cup canned pumpkin puree
For the frosting
10 ounces cream cheese, at room temperature
1 stick (1/2 cup) butter, at room temperature
2 tablespoons pure maple syrup
1 teaspoon cinnamon
1 teaspoon vanilla
1/2 teaspoon kosher salt
2 pounds powdered sugar